Welcome to the Doffo Barrel Club. This exclusive program is for the hands-on wine fanatics that are ready to roll up their sleeves and get involved in the winemaking process. Doffo Barrel Club members will assist winemakers Marcelo and Damian in the production of their very own barrel of wine at three exclusive events, and each membership will get to take home a case of their wine at the end of the process. We only offer 25 memberships per year, and each membership can be shared by up to 4 people.
---
Summer Grape Harvest
The first step in turning grapes into wine is, well, harvesting the grapes. Join Damian in the morning for the kick-off Doffo Barrel Club event. Club members will help harvest a half-ton of grapes, de-stem, and pitch the fermentation.
Spring Barrel Tasting
Members will be invited back to the winery in Spring for a special Barrel Tasting event. Join us for an exclusive barrel tasting, light appetizers and good company. A commemorative plaque will be proudly displayed on the front of the barrel in the event that you ever want to come visit your wine, sing to it, or just show it off to your friends.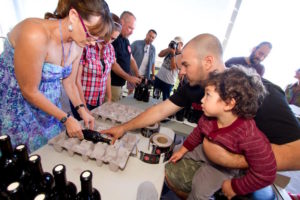 Fall Bottling Party
In Fall the Doffo Barrel Club members will once again convene at Doffo Winery to bottle their wine. A special edition Doffo Barrel Club wine label will include each member's name. Each membership gets to take home a case (12 bottles) of their new wine!
---
Doffo Barrel Club: A Winemaking Experience  |  $1,000 per membership (limit 4 people per membership)
One case (12 bottles) of special edition Doffo Barrel Club wine
Invitations to three exclusive events at Doffo Winery
Learn about winemaking and assist in the process
Regular emails from Damian with updates on the progress of the wine
Commemorative plaque will be displayed at Doffo Winery
The 2018-2019 Barrel Club will go on sale in July 2018.
Email wineclub@doffowines.com with any questions.